Introduction
Your office's copier may be one of the most utilized pieces of equipment in your workplace aside from your computers. How many times a day do you get to use it? Do you think your office copier is working at its optimum capacity?
Body
Here are some tips on how to get the most out of your money's worth.
Develop Good Maintenance Habits. Copiers, like any other machines, need regular care and patience, especially in the mornings when your office starts the day. A simple check if there is paper stuck into the rollers inside or if there is enough paper, ink, or toner in the copier is already a good habit.
Initiating a test print is also recommended for copiers left idle for a prolonged period, such as the weekend. By copying a multiple-coloured image as your test print, you can determine if there are any blank lines or uneven streaks that would indicate the presence of dried ink blocking the ink nozzle. Test prints would also help you save time during the day or when you are in a hurry.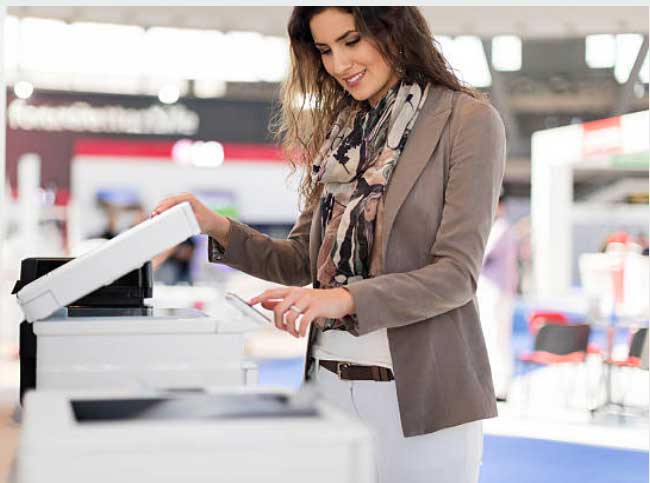 Copiers lease also go into calibration mode upon startup, so have a little patience. Banging the sides of the copier or pushing the buttons repeatedly will not get your work done faster.
Make cleaning and dusting your office copier a habit. Using the copier daily may leave the glass panel with dust, oil residue, and any particles left which would result in black streaks on the output print. Use alcohol-free cleaning agents to ensure it is clean to avoid build-up and cleaner output.
Keeping a regular maintenance schedule, whether it is an owned or leased copier machine, lessens the chances of sudden breakdown. Service maintenance includes assessment of your office copier's overall health and updates on necessary software.
Know Your Copier's Specification. Your copier's manufacturer always includes a specification guide on every model they release. Taking the time to read and understand your copier's specifications allows you to have fast and quality output without sacrificing your machine's health.
One of the specifications you need to remember is the maximum paper volume, size, and thickness allowed in a paper tray. Some copier brands indicate a volume range per tray, but that does not mean you should fill the tray to its maximum capacity. You also have to consider the thickness of your paper; the thicker your paper is, the fewer pages you should place on the tray.
Another specification to know is the duty cycle per month and the recommended average of copied pages per month. Your copier's monthly duty cycle is the maximum number of pages it can produce in a month, while the recommended average volume is the number of pages your copier can produce that will not compromise the output quality and the copier's health. Knowing and following this recommendation lessens the chances of your copier breaking down and needing maintenance service.
Last on the list of specifications to mind is the advanced capabilities of your copier. Does it have finishing options (stapling, hole punching, booklet making, and folding)? Does it have the duplex printing capability or the Automatic Document Feeder? How about the copier's electrical requirements?
Invest In the Right Supplies. Cheap paper, ink, and toner may save you some money on the supplies but may cost you more after a while. Another advantage of knowing your copier's specifications is that you would know the right supplies to purchase.
Paper varies in weight and thickness. Paper that is lighter than the recommended weight may tear as it is going through the rollers inside the machine and cause paper jams, whereas thicker paper would be difficult for the feeder to catch and may cause a paper jam or breakage in the copier's mechanism as it forces the paper though.
Ink and toners are very different and cannot be used interchangeably. Toner is a fine powder pigment and is used on a regular copier machine, while the ink is liquid and is only used for inkjet copiers. Using the wrong kind of pigment would cause an expensive repair.
Conclusion
Knowing and taking care of your office copier could look like a lot of work at first. But, to make sure that you are getting your money's worth, investing a little bit of your time is necessary. 
If you plan to get copiers for your office in Portland, you can opt to buy copiers or lease copiers in Portland We can give you the option to get the copier that you want. You can contact our local copier leasing services department in your location.
If your Location is around Portland you may call us at (971) 242-4130, our personnel for copier leasing in Portland will assist you. If you are also looking for copier repair services in Portland, you may contact our copier repair personnel at the same number.